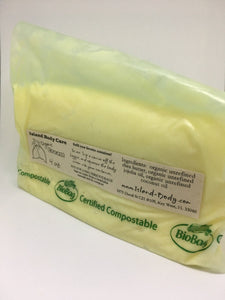 Organic Body Cream Refill
Regular price $0.00 $13.99 Sale
Organic Body Cream in a Refill

***This will melt in shipping during the warm months in Florida! 

 

In that case,

 

it's very likely that the texture of your moisturizer will be grainy when

 

it

 

arrives - it is perfectly fine to use, but see below on how to fix it if it bothers you, or

 

save

 

your order

 

for our cooler months***
REFILL of our body cream, i

n a compostable BIOBAG and LABELED with a fully compostable label too!  Just cut the end off of the bag and squeeze the body cream into your favorite container.

SHIPS in a 100% recycled, padded envelope that is recyclable, compostable and biodegreadable.

NOT FOR LONG TERM STORAGE bags are made from a breathable material and do compost.  If you want to stock up, consider transferring the deodorant into a large jar. 

Available in 4 ounces (fits in our glass or plastic jar), 8 ounces (will refill 2 of our white jars) and 10 ounces.

MEDIUM MOISTURIZING ideal for dry-normal faces, or as a medium weight body moisturizer
in GLASS or BPA free plastic jar.  Refills in compostable baggies available too!

HANDCRAFTED organic body cream with no added fragrance

ONLY 3 NATURAL INGREDIENTS just Unrefined Shea Butter, Organic Jojoba Oil, and Organic Coconut Oil


-BPA free -Gluten free -Aluminum free -Paraben free -Alcohol free -No added fragrance -Vegan
Why we love it  It is a luxurious feeling body cream, ideal for skin that needs a little more moisture.   

Ingredients: Unrefined Shea butter, Organic Unrefined Jojoba Oil, Organic Unrefined Coconut Oil (We use only the highest quality, unrefined ingredients in our body care line) 

Did you know Shea Butter has been used for centuries as a wrinkle reducer?  It contains essential fatty acids, vitamins & minerals including vitamin A, E & F.
Coconut Oil protects against formation of free radicals, and keeps connective tissues supple.  Penetrates deep into skins layers. 
Is there anything Jojoba Oil doesn't do?  It's absorbed quickly, and good for all skin types.  It's said to help with acne and eczema.  It contains many vitamins and minerals.  It even contains anti-fungal and anti-inflammatory properties. 

Helpful Tips for Organic Body Cream

For faces - Use just the tiniest amount, a little goes a long, long way
-Goes on a bit oily, but it's quickly absorb into the skin within minutes, just leaving you feeling nicely moisturized and nourished
-It's very soothing for sunburn (but let's hope you never need it for that!)
-It melts in warm temperatures and will likely melt in shipping in the warmer months.  It is induction sealed to cut down on leakage if it melts. If it arrives liquidy, open it, stir it well, and put it in the fridge (see below)
-If your organic body cream is grainy/has little balls of shea butter, don't worry, that's just something shea butter can do when it's exposed to a temperature change (which can happen in shipping).  It's totally fine to use as is, just rub it in your hands to warm it up and the little balls will melt away.  If you would prefer a smooth texture to your moisturizer (and who wouldn't?!) you can gently remelt it, stir it up well, and put it in the fridge to cool quickly.  It's an annoying thing that shea butter does, but it's so very wonderful for your skin that we just had to use it.